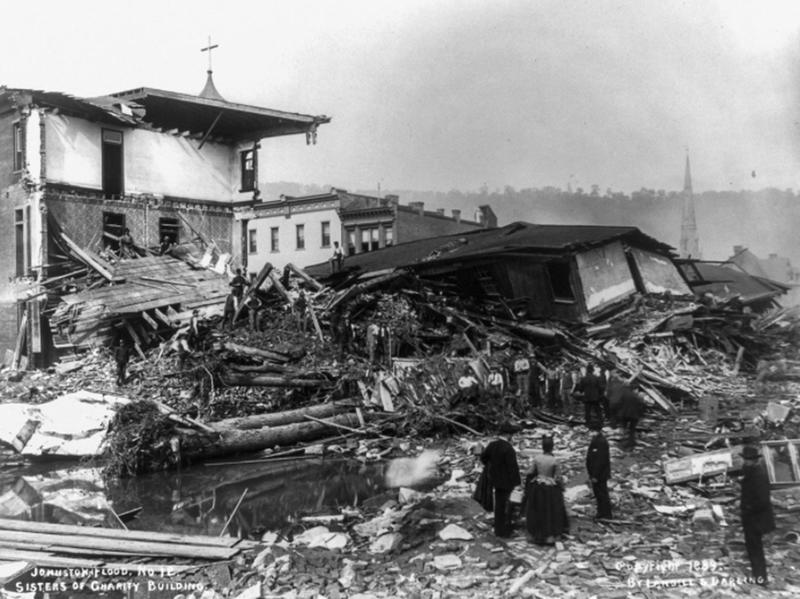 On May 31st, we join together to commemorate National Dam Safety Awareness Day. National Dam Safety Awareness Day was established in memoriam of the 2,220 people who lost their lives in the 1889 South Fork Dam failure near Johnston, Pennsylvania. The collapse of the South Fork Dam was a tragedy, but by no means was it an isolated incident. As we observe the 132nd anniversary of the South Fork Dam tragedy, we encourage you to understand the continued importance of dam safety, the role various parties play, current issues, and why investment in this infrastructure is urgently needed.
Photo: Wreckage after the flood in Johnstown, PA (via Library of Congress).
For a technical look at this failure, view the South Fork Dam case study on DamFailures.org.
---
Dam Safety Issues and Challenges
Dams are a critical part of the nation's infrastructure—equal in importance to bridges, roads, airports, and other major elements of infrastructure. Dams provide a life-sustaining resource to people in all United States regions; however, they must be maintained to keep them safe. Failure or misoperation can result in the release of the reservoir contents - this includes water, mine wastes, or agricultural refuse - causing negative impacts upstream or downstream or at locations remote from the dam. The negative impacts of primary concern are the loss of human life, economic loss including property damage, lifeline disruption, and environmental damage. This situation demands greater attention and investment to reduce risks to public safety and economic assets.
By 2030, seven out of 10 dams in the United States will be over 50 years old. While the age of a dam is not necessarily a direct indicator of its condition, it could indicate that it was not built to today's standards. Occasional upgrade or rehabilitation is necessary due to deterioration, changing technical standards, improved techniques, better understanding of the area's precipitation conditions, and changes in downstream populations or land use.
ASDSO estimates that the total cost to rehabilitate the nation's non-federal dams exceeds $65 billion. To rehabilitate just those dams categorized as most critical, or high-hazard potential, would cost over $20 billion, a cost that continues to rise as maintenance, repair, and rehabilitation are delayed. Many dam owners, especially private dam owners, find it difficult to finance rehabilitation projects. Investment is needed to rehabilitate deficient dams and improve the efficacy of policies and regulatory programs that oversee dam safety programs.
There is an urgent need to invest in the safety of our dams. The May 2020 failure of the Edenville and Sanford Dams in Michigan shows the high cost the public pays when dam safety is not prioritized. When extreme rainfall caused the embankments to fail, more than 10,000 people were forced to evacuate the area, and damages were estimated at $250 million.
Learn more about current issues and challenges and what we can do to improve dam safety on the Roadmap to Reducing Dam Safety Risks Page.
---
Communication with the Public and Living with Dams
Intersecting almost all dam safety issues is the need for public education about dams. The ordinary citizen is unaware that the beautiful lakes on which they boat, ski, or fish are only there because of manmade dams. Developers build in dam-break flood inundation areas knowing nothing about the potential devastation an upstream dam could cause should it ever fail. In fact, some developers and zoning officials are completely unaware of dams within their community. Even if citizens understand and are aware of dams, they still can be overly confident in the infallibility of these manmade structures. Living in dam-break flood-prone areas is a risk.
Living with Dams: Know Your Risks, was prepared by ASDSO to help address these issues and answer questions about dams including what purposes they serve, what risks are associated with dams, and where you can get information about how to react if you are affected by one.
A second booklet, Living with Dams: Extreme Rainfall Events, explains the engineering principles involved with predicting extreme rainfall events and how these principles are used to design safe, functional and economical dams. It connects the concepts of rain to floods to dams to failure and the flooding impacts downstream.
---
Deep Dive into Dam Safety
For more information on dam safety topics, visit the links below.
Roadmap to Reducing Dam Safety Risks - Learn more about current issues and challenges, as well as what we can do to improve dam safety.
Access State Dam Safety Programs & Contacts - For state-specific dam safety details, visit our map page and click on your state.
Public Safety at Dams (Low-Head Dam Awareness) - Each year, dozens of lives are lost on America's low-head or "run-of-the-river" dams. Among the victims are boaters, kayakers, swimmers, anglers, and emergency responders. People are often unaware of these dangers, or they underestimate their risk of falling victim to them. It is critically important to understand the scope of this danger and be aware of the many ways you can keep yourself safe and avoid a tragedy.
ASCE Report Card for America's Infrastructure - The American Society of Civil Engineers releases a report card every four years and assigns grades for 17 infrastructure sectors, including dams and levees. ASCE released the 2021 Report Card for America's Infrastructure on March 3rd and both dams and levees received a grade of D.
Dam Owner Academy: Dams 101 (Video) - 'Dams 101' is the first in a series of educational videos for dam owners from ASDSO. This video focuses on the types of dams and how they work. Although this video is part of the dam owner series, this video is suitable for anyone looking for an introduction to dams.
Damfailures.org - Presented within this website are links to individual case studies as well as lessons learned pages that summarize historical dam incidents and failures and the valuable information gleaned from them. Each page contains background and description, photographs, videos, best practices, and other resources related to the case study or lessons learned being addressed.
ASDSO Awareness Center - This area of the ASDSO website includes more information on dam basics.
FEMA National Dam Safety Awareness Day Webpage - The National Dam Safety Program has additional resources available to assist with outreach on National Dam Safety Awareness Day.
---
Follow ASDSO on Social Media: Twitter, Youtube, LinkedIn
For more information, contact ASDSO Communications Manager Katelyn Riley - [email protected]