2019 Dam Safety Awards and Recognitions
The nomination period for the 2019 awards program has closed. Winners will be announced in late July and are invited as honored guests to attend the awards ceremony in conjunction with Dam Safety 2019 in Orlando, FL.
---
Award Overview and 2018 Dam Safety Award Recipients
ASDSO annually honors those individuals and organizations providing exemplary contributions to the improvement of dam safety in the U.S. The 2018 awards were presented on Monday, September 10, as part of the Dam Safety 2018 conference's Award Luncheon. The conference was held at the Washington State Convention Center in Seattle, Washington.
ASDSO awards include the following:
National Award of Merit
National Rehabilitation Project of the Year
Regional Awards of Merit
Joseph Ellam President's Award
ASDSO's Honorary Members
Terry Hampton Medal
Danny K. McCook Medal
Student Paper Competition Winners
Memorial Undergraduate Scholarship
Bruce A. Tschantz Public Safety at Dams Award
Media Outreach Award
Young Professional of the Year Award
View history of all ASDSO awards
---
Chosen by the ASDSO Board of Directors, this award honors an individual or entity contributing to dam safety on a national level.
2018 Recipient:
Kory L. Honea, Sheriff of Butte County, California
Sheriff Honea is being honored and thanked for his unwavering leadership during the Oroville Dam Incident in 2017. During the incident, Sheriff Honea stepped into the emergency working closely with the California Department of Water Resources to understand the various ramifications related to the incident. Under a steep learning curve regarding technical dam issues and under extreme pressure, he made the difficult decision of calling for and managing the evacuation of Butte County to ensure the safety of the citizens.
Since the incident, Sheriff Honea has been an advocate for dam safety and increasing communication and preparation between dam safety representatives and emergency officials. He has made a continued effort to share his experiences and lessons learned, including participating in a panel discussion during Dam Safety 2017, which has contributed to an improved understanding of decision making and emergency management within the dam safety profession.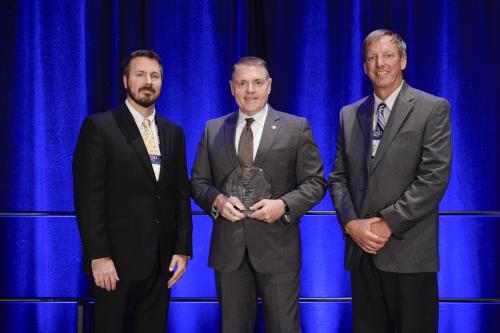 ---
This award recognizes developers of a unique remedial design that advances the state-of-the-art in the field of dam safety and exemplifies the high professional engineering standards that dam safety requires.
2018 Recipient:
Rehabilitation of Hope Mills Lake Dam (Hope Mills, NC)
- Town of Hope Mills (Dam Owner)
- Schnabel Engineering, Inc. (Designer)
- ASI Construction LLC (Designer)
Hope Mills Lake is the heart and soul of the town of Hope Mills, North Carolina. The original dam ran cotton mills for the town, generations of families spent time around the lake, and many businesses depend on the seasonal visitors.
After the dam overtopped and failed in 2003, a new one replaced it in 2008. Just two years later, a failure through the foundation occurred, emptying the lake for the second time. With the lake gone, the interconnected ecosystems that had surrounded it began to change and the area became an eyesore. Four years later, the town reached a settlement with the designers and builders of the 2008 dam and was ready to restore the lake to its former beauty.
Led by Mayor Jackie Warner, the Hope Mills Board of Commissioners and Town Manager Melissa Adams oversaw the dam rehabilitation project. The Board of Commissioners awarded a contract to Schnabel Engineering and ASI Construction to design and build a new dam, as well as revitalize the lakebed, all within an $8 million budget.
The most important goal for the town was to get their lake back, but they also wanted the new dam to avoid and correct the shortcomings of the failed one. A design-build delivery method and recycling materials from the failed dam helped maintain a strict budget. The design solution was responsive to both ordinary function and the possibility of extraordinary weather events. It also quelled vibration (experienced by the previous structure); featured a smaller footprint; was visually appealing; raised the water level; created a deeper swimming area; and incorporated more lakeside recreational amenities. The process reflected a true collaboration between the design-build team of Schnabel and ASI Construction, LLC, town officials, and the Hope Mills Lake Advisory Committee, a citizens' group.
Complete demolition and removal of the old dam, and construction of the new dam—a five-cycle labyrinth spillway design—began in August 2016 and concluded in November 2017. A dedication ceremony took place on January 31, 2018, and the dam was once again the centerpiece of the town.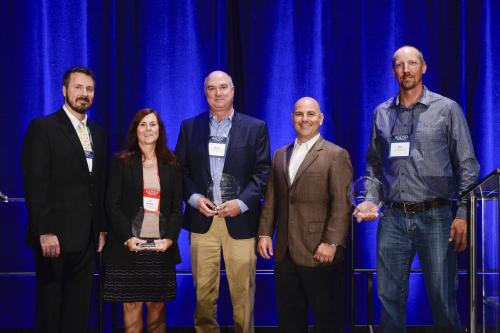 ---
Given to individuals, companies, organizations, municipalities, or other entities working in the dam safety field that have made outstanding contributions to dam safety on a regional level.
Northeast Regional Award
2018 Recipient:
ASDSO Training Course Evaluators
- Christopher S. Adams, P.E., Principal/Senior Vice President, Civil Dynamics, A Division of GZA
- Gary Dale, P.E., Professional Engineer 1 (Civil), Bureau of Design & Construction, Division of Operations, New York State Department of Environmental Conservation
- Gregory Daviero, Ph.D., P.E., Principal, Schnabel Engineering
- Alon Dominitz, P.E., Section Chief, Dam Safety, NY State Department of Environmental Conservation
- Shaun B. Gannon, P.E., P.H., D.WRE, CFM, PMP, Subject Matter Expert / Technical Manager, OBG
- Gregory L. Johnson, P.E., PMP, Waterway Structures Practice Leader, Bergmann Associates
- John R. Murray, P.E., Associate, Bergmann Associates
- Kevin J. Ruswick, P.E., CFM, Senior Associate, Schnabel Engineering
- Michael P. Taylor, P.E., Principal, Schnabel Engineering
Since 2014, a group of ASDSO members has volunteered to be part of the pool of experts that ASDSO relies on to evaluate course content for ASDSO training seminars and webinars. This rigorous review process allows New York licensed engineers to be eligible for continuing education credit. New York has the strictest policy in the United States regarding what types of training can be approved for continuing education credit for professional engineers.
Course evaluators work on tight deadlines and must be trained and certified by the Practicing Institute of Engineering (PIE) to participate. Thanks to these volunteers, every classroom course and webinar since 2014 has been approved for NY continuing education credits.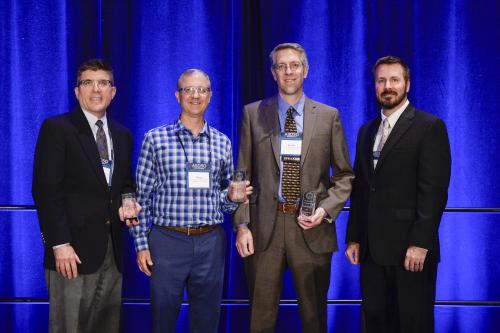 Southeast Regional Award
2018 Recipient:
Water Works Board of the City of Auburn, Alabama
The Water Division of Auburn's Water Resource Management (WRM) Department is responsible for the inspection, maintenance and repair of the major components of the water distribution system. This division, which comprises the Auburn Water Works Board (AWWB), oversaw the design and construction of the new spillway at Lake Ogletree, a 300-acre impoundment that is Auburn's primary water supply source.
Originally constructed in 1941, Lake Ogletree dam showed signs that is was past its prime. A study revealed that in addition to voids beneath the thin shell concrete, the spillway did not have the hydraulic capacity to prevent overtopping during extreme storm events. After working closely with an engineer and evaluating several alternatives, the AWWB approved a solution that replaced the old spillway; raised the lake's water level by six inches, which increased the stored water volume by 50 million gallons; and improved the discharge capacity of the structure without raising the dam. Water service to customers was not interrupted during construction.
Although the state of Alabama does not currently have codified dam safety standards, the replacement spillway was designed to meet and exceed the safety standards adopted by several other states in the region. In many cases, rehabilitations such as this are only performed when required by a governing regulatory agency.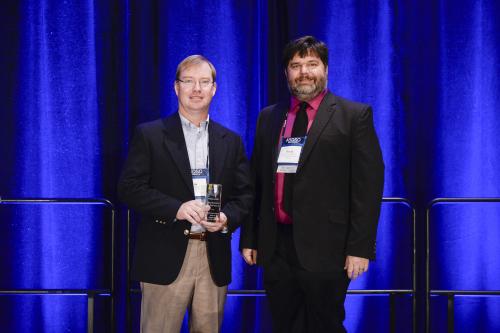 Midwest Regional Award
2018 Recipient:
2018 Indiana DIRT Committee
- Marco Alvarez-Rengifo, Engineering Geologist, IN Department of Natural Resources
- Jennifer Burns, Office Manager, Association of State Dam Safety Officials
- Larry Clough, Board Member, Papakeechie Protective Association
- George Crosby, Manager, Dam Safety Section, IN Department of Natural Resources
- Breagan P. Eicher, P.E., Senior Civil Engineer, Lawson-Fisher Associates, P.C.
- Drew Flamion, Project Engineer, Commonwealth Engineers, Inc
- Aaron J. Fricke, P.E., Senior Project Engineer, Christopher B. Burke Engineering, LLC
- Kellen P. Heavin, P.E., Project Engineer, Earth Exploration, Inc.
- Karla M. Hench, President, Wildwood Dam Conservancy District
- Chris Ritz, Civil Engineer, United States Department of Agriculture - Natural Resources Conservation Service
- Kenneth E. Smith, P.E., Assistant Director, Division of Water, IN Department of Natural Resources
Since 2012, a group of volunteers from the Indiana dam safety community has worked with ASDSO to host an annual training and awareness event known as DIRT (Dam Information Resources and Training).
DIRT is a multi-track and multi-speaker conference that was created to bring dam owners and operators together with members of the professional dam safety community and various supporting professions. The DIRT committee that plans this event consists of dam owners, public agency engineers, private engineering consultants, and ASDSO staff.
For each year's event, the committee works for months to develop different and varying topics and speakers. The DIRT 2018 Conference was held on June 12 in Greenwood, IN and topics included: Dams 101 for new owners; a Kelly Barnes Dam failure case study; "the Green Giant" case study of Hidden Valley Lake Dam; life cycle issues of maintaining a dam between inspections; "Dirty Jobs" - geotechnical evaluations; "Go with the flow" 2-D inundation modeling; lessons from the Oroville incident; Death by Sediment – improving lake longevity; small event – big problems and making of a disaster, lessons from a regional flood event; and "Give a Dam All the Distance You Can, covering low head dam awareness.
In 2018, a record of 100 participants attended the conference, including owners, emergency response officials, and practicing engineers.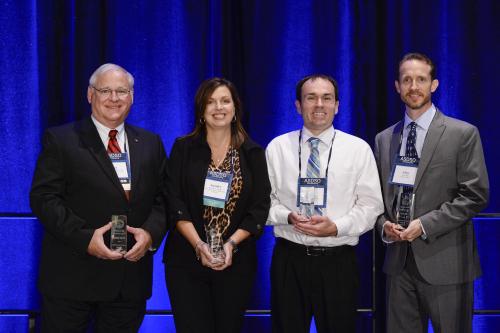 West Regional Award
2018 Recipient:
New Mexico Department of Agriculture
The New Mexico Department of Agriculture (NMDA) created a project to develop inundation mapping and emergency action plans (EAPs) for soil and water conservation dams in New Mexico. The NMDA does not own any dams and it has no responsibility to operate dams or monitor compliance with EAP regulation. It independently evaluated the problem facing dam owners and then developed a project to assist several districts and their communities. Upon project completion in 2017, 24 dams had updated hydrology and inundation mapping and 13 EAPs were developed and approved. Dams in nine New Mexico counties benefitted from this effort. The project also allowed three additional dams to develop EAPs independently based on the mapping provided by it.
The NMDA planned and executed the project without the benefit of dam safety professionals on its staff. NMDA staff managed an engineering effort by AECOM to develop the analyses and mapping and worked with the dam safety bureau when needed to achieve regulatory acceptance. NMDA secured additional funding and arranged for EAP exercises to be facilitated in several communities. It worked with the affected communities and provided materials for follow-up activities that will benefit other soil and water conservation district dam owners as they work to prepare EAPs at their facilities.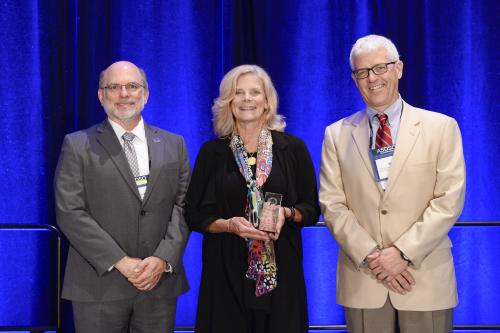 ---
The ASDSO president annually acknowledges someone that he/she feels is worthy of recognition either for contributions to the advancement of dam safety or for specific assistance to the president over his/her term of office.
2018 Recipient:
Oroville Dam Spillway Incident Independent Forensic Team
- John W. France, PE, D.GE, D.WRE (Team Leader and Geotechnical Engineer)
- Irfan A. Alvi, PE (Hydraulic Structures Engineer and Human Factors Specialist)
- Peter A. Dickson, PhD, PG (Engineering Geologist)
- Henry T. Falvey, Dr.-Ing, Hon.D.WRE (Hydraulic Engineer)
- Stephen J. Rigbey (Director, Dam Safety at BC Hydro, and Geological Engineer)
- John Trojanowski, PE (Hydraulic Structures Engineer)
ASDSO appreciates the in-depth work of the Independent Forensic Team and it's dedication during the many long months that it took to thoroughly investigate the Oroville Dam Spillway incident. Through this award, the president recognizes the importance of the investigation, the many important lessons that the report provided to the dam safety community, and the additional time many members spent explaining the report to the public.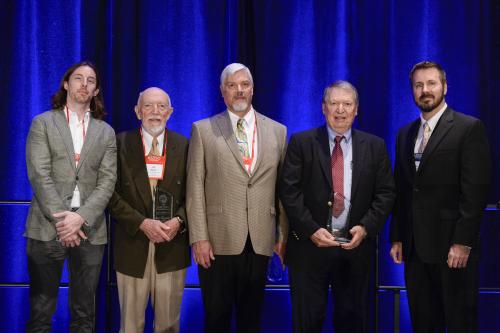 ---
The Board of Directors will occasionally honor and individual who has contributed to the improvement of ASDSO and the advancement of dam safety over a lifetime of work. This is a rare award and only goes to a select few.
Class of 2018:
Bruce C. Muller, Jr., Bureau of Reclamation (Retired)
Elaine C. Pacheco, Dam Safety Engineer, Pacheco A&E Consultants
Raul F. Silva, P.E., Deputy Chief Engineer, MA Department of Conservation & Recreation
Timothy G. Schaal, P.E., SD Department of Environment & Natural Resources (Retired)
Current Honorary Members:
Alan E. Pearson
Alton P. Davis
Brian R. Long
Carl J. Montana
Charles E. Karpowicz
Charles H. Gardner
Constantine G. Tjoumas
Daniel J. Mahoney
David B. Campbell
Francis E. Fiegle, II, P.E.
George E. Mills
Harold W. Andress, Jr.
Harry Honorary
J. Bruce Pickens
James D. Simons, P.E., P.G.
James R. Talbot
Jeris A. Danielson
Kenneth D. Hansen
Leon A. Cook
Martin J. Stralow
Matthew Lindon
Meg Galloway
Richard W. DeBold
Robert H. Dalton
Ronald A. Corso
Steven McEvoy
William B. Bingham
William H. Allerton
William Irwin
Zahir "Bo" Bolourchi
---
The Terry L. Hampton Medal was established in 2007 by ASDSO's Advisory Committee (AdCom) to recognize Terry L. Hampton's lifetime achievements in the field of hydrology and hydraulics, and his contribution to the AdCom.
2018 Recipient:
Melvin G. Schaefer, Ph.D., P.E.
During his career, Mel Schaefer has developed and implemented practical procedures for probabilistic hydrologic analyses. Many of these approaches have become the standard of practice throughout North America and the world. These procedures have allowed for the development of flood magnitude frequency relationships that has made current hydrologic risk analyses possible. The procedures have withstood the scrutiny of the best minds in statistical hydrology and won the confidence of dam safety managers from federal, state, and local jurisdictions.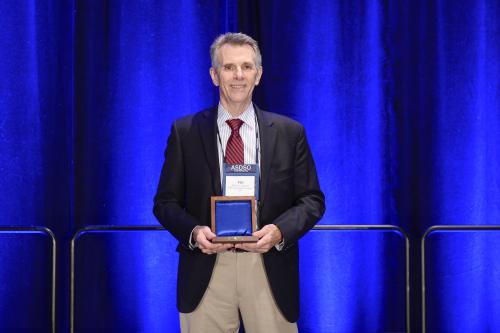 ---
This medal was established by the Affiliate Member Advisory Committee, now known as the ASDSO Advisory Committee (AdCom), to recognize Danny McCook's lifetime achievements in the field of geotechnical engineering and his contributions to ASDSO and the AdCom.
---
This award was established by ASDSO in 2017, to recognize and celebrate Bruce Tschantz's lifetime achievements in dam safety, his contributions to ASDSO, and his efforts to improve public safety around dams. The award will be given to a person who takes on the role of "local champion" and works to improve safety at dams. Often, no action would be taken without their efforts.
---
This award was established by ASDSO in 2017, to recognize and celebrate outstanding contributions made by media outlets and journalists (to include those who work in print, broadcasting, and other media platforms) whose work on dam safety issues has enhanced public understanding of the impact dams have on society, the role they play as key components of public infrastructure, ramifications of dam safety incidents or other noteworthy contributions to Dam Safety. Through this annual national award, ASDSO hopes to encourage continued coverage of dam safety related issues as a means of engaging the public in critical topics impacting their community, improving the safety of dams, and reducing the risk to the public.
---
The Association of State Dam Safety Officials (ASDSO) Young Professional Award recognizes professionals under 40 years of age working in the dam safety field that have made outstanding contributions to the Association, their respective organization, and/or the dam safety industry in general.
2018 Recipients:
Brian M. Crookston, Ph.D., P.E.
Dusty Myers, P.E.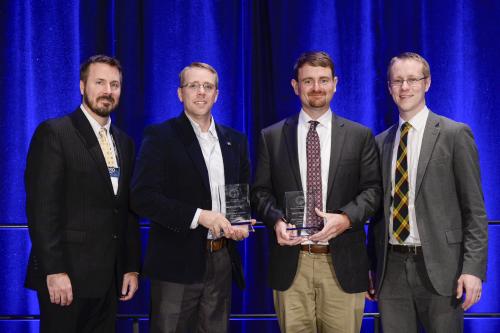 ---
Learn more about the Student Paper Competition in the student and faculty resource section
---
Learn more about the Memorial Undergraduate Scholarship in the student and faculty resource section